Julia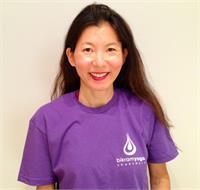 Julia didn't know how to balance before she started yoga. She was introduced to Bikram Yoga in 2007 by a friend when she ran half marathons. Even though she started with Vinyasa and practices other types of yoga, the Bikram Yoga hot room allows for the most stretching. Immediately she felt yoga's other benefits: meditation, cardio, strength building, stress reduction, and most importantly, balance. This practice is part of her lifestyle and she went to teacher training in L.A. in the fall of 2012. She is interested in sharing Bikram yoga with you at the Scarsdale studio!
Julia instructs the following:
The original Hot Yoga Class. Become the healthiest you have ever been! Improve your flexibility, strength and balance. Transform your body, mind and spirit. This is beginner's yoga - anyone can do it.