Hot HIIT - Project Purple Fundraiser
This class is taught by: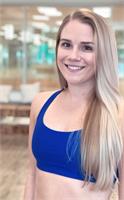 I started Bikram Yoga in 2008. My parents had been practicing for a few years and finally got me to come take a class, and I hated it. I was a gymnast and a cheerleader so I assumed it was going to be easy, it was not. I continued to go when I was forced to and as much as I didn't want to go, I always felt great after. Whenever I was stressed or having a bad day I would go take a class and had a place where I didn't have to think about anything else. My dad went to teacher training in 2010 and we all thought he was crazy. Then after many years of contemplating, I finally went to teacher training in Fall of 2015 in Thailand! It has definitely been a journey and I now look forward to helping others with their journey.
We are hosting a fundraiser to raise money for Project Purple. Project purple is a non-profit organization created to raise awareness, support patients and families affected by the disease, and fund research efforts to defeat pancreatic cancer. Bring a mat & towel, wear purple and help us raise money for this great organization!